Exam arrangements
During a young person's time here at Queen's Croft, they may be entered for various formal qualifications or awards to support their journey in to adulthood.
There are many different levels and types of qualification that we are able access to ensure the young person has the most appropriate outcome from their education and journey onwards.
These qualifications/awards take place at different times of the year, with GCSE exams always taking place in the summer term.
Students (Candidates) will receive a statement of entry that will show the subjects and level of qualification/award they have been entered for.
Lead Examinations staff:
SLT Exam Lead: Sam Wood (Assistant Headteacher)
Access Arrangements for Exams: Sarah Malpass (Teacher)
Exam Officer: Alison Hunt (Office Manager)
Head of Exams Centre: Clive Lawrence OBE (Headteacher)
GCSE SUMMER 2023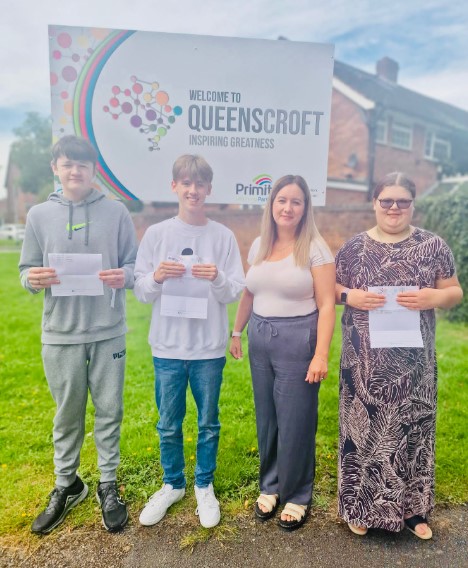 GCSE SUMMER 2024 (Provisional)
The exam boards have now published their provisional summer 2024 exam timetables. They can only be used as a guide for when exams may take place. Students will be issued with a personal exam schedule in around February / March, which should be used as their final timetable.
GCSE: Thursday 9 May to Wednesday 19 June
The afternoons of Thursday 6 and Thursday 13 June 2024 and all day on Wednesday 26 June 2024 have been designated as contingency days. Students must ensure they remain available until Wednesday 26 June in case an exam has to be rescheduled. This would only happen in the event of a national emergency or event leading to exams having to be cancelled country wide.
Board timetables can be found as follows:
Please note that for the majority of qualifications all boards run exams for a subject at the same time
Dealing with exam stress
It is normal to feel a bit worried about exams, especially if you're under pressure from school or family.
Exam stress can cause you to feel anxious or depressed, and this might affect your sleeping or eating habits.
watch for signs of stress
Children and young people who are stressed may:
worry a lot
feel tense
have headaches and stomach pains
not sleep well
be irritable
lose interest in food or eat more than normal
not enjoy activities they previously enjoyed
be negative and have a low mood
feel hopeless about the future
If you are feeling this way, please speak to your parents/carers, your class teachers or any other trusted adults. you may also find the links below useful:
YOUNG MINDS
NHS – EXAM STRESS
MENTALLY HEALTHY SCHOOLS
OFQUAL
STUDENT MINDS
CHILDLINE